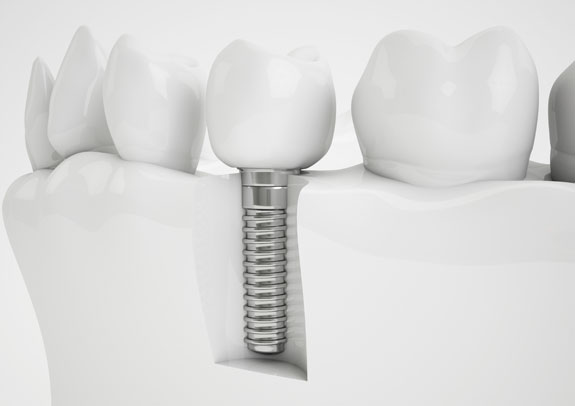 Implants
Dental implants are the replacement of tooth roots in the mouth. Implants provide a strong foundation for fixed or removable replacement teeth. Dental implants are small anchors made of biocompatible metal called titanium, which are placed in the jawbone. The anchors begin to fuse with the bone over a few months.
After the fusing process, known as osseointegration, posts are then attached to the implant allowing for dental prosthetic attachments to be placed.
Once the implant posts have been attached, custom made restorations such as crowns, bridges and dentures can be permanently fixed on the already placed dental implants to complete your new smile.
Implant Supported Bridge
An implant supported bridge is a restorative solution for spaces where three or more adjacent teeth are missing. The bridge replaces multiple adjacent missing teeth without the use of a denture. This restoration typically requires two implants to support the porcelain bridge. The bridge provides a functional and aesthetic replacement for the patient's natural teeth.
Implant Supported Dentures
Implant supported dentures can be either fixed or removable. This solution requires the placement of two or more implants. If a removable denture is selected, the denture will "snap" on to the implant rather than requiring the use of denture paste or adhesives. Removable dentures can be taken out for cleaning at night.
This technique offers many advantages over traditional dentures.
Easy to care for, this solution can simulate the look and feel of natural teeth and stay fixed in place with the implants acting as anchors. Patients will not experience the typical rocking and movement or gum irritation associated with dentures.
Dental implant placement can also help alleviate the sunken look that can occur with bone loss in the jaw by stimulating bone growth in the area around the implant. This process is called osseointegration and can also help prevent future bone loss.